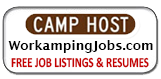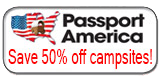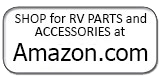 The Different Types of RVs


If you're thinking about becoming an RVer, your first step is to determine what kind of RV best suits you. There are hundreds of different makes, models, styles and floor plans with even more options. The major categories of RVs are: Motorized - Class A Motorhome, Class B Motorhome, Class C Motorhome; Towables - Fifth Wheel, Travel Trailer, Pop-Up Trailer and finally the Truck Camper. Every RV type offers a Toy Hauler version for carrying ATVs, golf carts, motorcycles, etc but 5th wheels and travel trailers are the most common. Now let's take a closer look at each of the RV types...



Class A Motorhome



Big on size and big on luxury... oh, and big on price, too. Sizes range from about 22' up to about 45', with and without slides, gas or diesel engines, pusher or puller (rear or front engine), and just about every amenity you could think of. The more amenities, the bigger the price tag. Some of the really nice Class A motorhomes start around $500,000.00!

They are perfect for short trips as well as living in them full-time. You have all the comforts of home like a washer and dryer, king size bed, huge flat screen TVs and DVD players, satellite systems, full bathrooms, complete kitchens and much more. Multiple slide-outs expand your living area considerably when you are parked. On the road the Class A is incredibly comfortable. It provides a smooth and stable ride and is relatively easy to drive and easy to setup at a campground. Because of its size, it is impractical to use a Class A for local transportation once you set up at camp. That's why it is common to see a smaller vehicle, referred to as a "toad", being pulled or "towed" behind them.

Some of the disadvantages of owning a Class A are the initial price tag, high maintenance costs, high fuel costs and it's size. You really have to be wary of low overhangs, roads that are too narrow or winding to navigate, tunnel heights or campgrounds with low hanging tree limbs.

If your budget allows and you aren't intimidated by the drawbacks of ownership, then a Class A just might be in your future.




Class B Motorhome



Ahh, the van camper. The Class B is built on a van chassis with a raised roof. They are smaller, very easy to drive and contain some of the same amenities as a Class A or C. However, Class Bs are expensive, particularly when compared to a similar sized unit.

They are generally fully self-contained, with a refrigerator, sink, hot water, air conditioning and heater and comfortable sleeping facilities. Many have showers and a toilet. Although smaller in capacity, they may even have holding tanks for your fresh water and gray/black water.

The advantages of a Class B include its versatility, size and drivability. You can easily come and go from a campground in a Class B to go shopping or run errands. The disadvantage is that they are generally only good for 1 or 2 people. Any more than that and it gets real crowded, real fast.




Class C Motorhome



Class C motorhomes can be almost as luxurious as Class A motorhomes, but generally on a smaller scale. They are built on a van or truck chassis and many models come with slide-outs to make them even more spacious. The Class C is great for families as they generally have lots of sleeping areas, perfect for weekend trips or permanent vacations.

Like in a Class A, passengers are free to eat, watch TV, take a nap and use the bathroom while in motion, but we don't recommend it for safety reasons (and local laws may prohibit it). And although not as common as a Class A, many Class C owners tow a smaller vehicle behind, for use while set up at camp. The towing capacity is generally less than a Class A, however.

For those with families or if you lack the funds for a Class A, the Class C Motorhome may be what you are looking for.




Fifth Wheel



The Fifth Wheel offers the most living space for a given trailer length. Fifth Wheels are constructed with a raised forward section, allowing a bi-level floor plan. This style provides more room in the "living" area of the unit. Add in a couple of slide-outs in the living/dining area and a slide-out for the bedroom area, and it's easy to see why they are preferred by many full-timers.

The fifth wheel hitches in the bed of the truck on a special hitch. Depending on the size and construction of the unit, it may be too heavy to tow with a big pickup truck and you may need a medium (MDT) or heavy (HDT) duty tow vehicle. That itself can be a problem in that it is not as convenient and cost effective to sightsee or do errands in a MDT or HDT. For the budget minded RVer who might want a smaller or an older fifth wheel, the price and inside space are very appealing if you already have a big enough truck. Just make sure you match the weight of the trailer adequately to your tow vehicle. Your RV dealer should be able to assist you in this matter but remember he/she is a salesman, and you already know how to tell when a salesman is lying (their lips are moving).

The inside of a 5th wheel has all the amenities of a motorhome, with many more layout options. If money is an issue, a fancy new fifth wheel and MDT combined is still less expensive than a fancy motorhome and toad. The disadvantage is that it usually takes longer to park and setup a fifth wheel than it does a Class A motorhome. They say towing a Fifth Wheel is easier and more stable than towing a travel trailer. The hitch being placed in the pickup bed and directly over the rear tires of your tow vehicle contributes to improved traction and handling. Opinions vary on this, so do your homework.

Fifth wheels come in sizes from about 25' up to about 45' with enough options and floor plans to drive you crazy. If you want maximum living space, relatively easy towing and reasonable prices, a Fifth Wheel will suit your needs.






Travel Trailer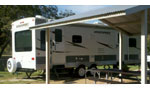 The travel trailer, the number 1 selling RV type in the history of the industry. They range in size from about 9' up to around 40'. They are the most popular due to the many size options available, the relatively low cost and many people already have a suitable tow vehicle. The smallest models can be pulled by an SUV, the ultra-lights can be pulled by a 1/2 ton pickup and the larger trailers can be towed by 2500/3500 series trucks.

You can choose from the cute fiberglass molded models, the gleaming Airstream models or a plethora of fiberglass and aluminum sided models. Most models 17' and larger are fully self-contained, meaning they have a full bath, kitchen and bedroom. They also have decent sized holding tanks for fresh, gray and black water. You can get them with slide-outs or not, one door, two doors, bunk beds... whatever you and your family needs is available. Travel trailers usually provide cooking facilities, a refrigerator, heating, air conditioning, toilet, shower, water tanks (fresh water, grey water, black water), faucets, sinks, a LP (propane) gas supply, and a separate 110v electrical system. A ride to your nearest RV dealer will give you an idea of what all is available.

As with any RV type, build quality ranges from pathetic to fantastic. Do your research before buying, speak with current or past owners of any model you are considering and don't believe everything the dealer tells you! Hybrid trailers are ones that have canvas bedrooms that fold out but they require additional maintenance and may not be a good choice for cold weather camping. Travel trailers are fairly easy to setup and take down; we can set ours up in about 20 minutes if we really take our time. Towing is easy if you have a suitable tow vehicle and a proper hitch; just make sure you can back one up.

If you have a limited budget yet still require a self-contained unit, then you might need to be out travel trailer shopping!




Pop-Up (Pup)


Folding camping trailers are the least expensive RV type. Referred to as tent trailers or pop-up trailers, folding camping trailers are designed from the ground up to be lightweight and inexpensive while providing many of the conveniences found in a basic travel trailer. Because of their relatively small size, folding camping trailers can easily be towed by a typical mid-size car, and even compact cars in some cases. A folding camping trailer can be thought of as a large, expandable tent built on a trailer. Most models incorporate a rigid roof and a lift system to expedite setup. Because the sides collapse for towing and storage, the units take up very little space when not in use. Folding camping trailers usually provide cooking facilities, a refrigerator or an ice box, heating, a fresh water tank, a waste water tank, a faucet, a sink, convertible/pull-out beds, a LP (propane) gas supply, and a separate 110v electrical system.

They take a lot more effort to set up and take down than a travel trailer. If it is raining when you have to do this, it is not pleasant. They can sleep up to a half dozen people depending on the model and the floor plan. There are lots of them out there and the owners are generally satisfied with what they offer.

If your budget and tow vehicle are small, then a pop-up camper may be your best bet.




Truck Camper



A truck camper is a self-contained RV that slides into the bed of a pickup truck. Truck campers are manufactured to fit virtually all models of pickups and some truck manufacturers even have truck camper models designed to handle the additional load. Because the camper attaches to the pickup truck, you can tow a separate trailer containing all of your toys. Since most states do not allow double towing, the pickup truck camper is an ideal choice for those who like to take all their toys with them.

A truck camper mounted on an off-road truck can get to campsites that no other RV can. They are almost as easy to drive as a truck without a camper, you just have to be aware of the additional width, height and handling properties.

Truck campers can come with a toilet, shower, cooking facilities, a propane system as well as a 12v and 110v electrical system. Prices vary greatly depending on the amenities you want and the build quality. Room inside a truck camper is limited, generally only good for 1, maybe 2 people. Do a little searching online or talk to a few owners and you'll quickly find which makes and models are preferred.

Although not really designed for full-timing, you can do so in a truck camper. If you need a camper you can easily take just about anywhere and you have a truck capable of carrying it, then a truck camper is certainly an option worth considering.