Review - Empire RV Cover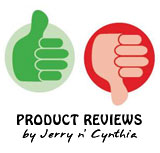 Having your expensive RV sit out in the sun for months and years takes its toll on everything. Your paint fades, fiberglass oxidizes, tires crack, plastics turn yellow, etc. It won't take long before your nice looking camper looks old and weathered. If your RV develops a leak and you don't notice it right away, significant damage will occur as the water rots away your camper. The solution is to keep your RV covered. If you have a building you can park in or under, that's great... but many people don't. The other option is an RV cover.
One manufacturer of RV covers, Empire Covers, sent us one of their products to review. We received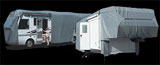 product number EMP77C1 which is a cover designed for a 24' Class C motorhome. The box it came in was 24" square and 26" tall and weighed about 20 pounds. I am guessing on the weight as Cynthia doesn't allow a scale in the RV. The cover in its bag was much smaller than the box it came in, which is a good thing!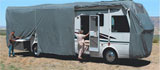 The light weight makes getting it to the roof of the RV reasonably easy. It is even easier if you have a ladder mounted hoist or someone to help you. The point is, be safe when getting it to the roof. If you fall, that sudden stop at the ground will hurt! The cover is very easy to unroll and to get into position. Having a helper on the ground makes things go much easier, though.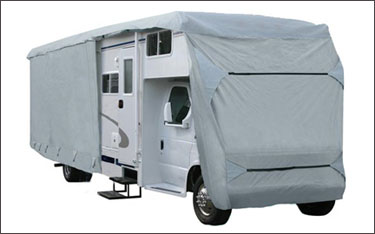 The adjustable front and rear panels provides for a good fit. There are full zippered panels on the awning side so you can enter and exit the RV while the cover is still on. There are also air vents that help reduce lofting and allow trapped moisture in the cover to escape. This helps prevent mold and mildew from forming under the cover. The top of the cover is made of three layers to repel rain and UV rays and the sides of the cover are single layer polypropylene and also UV resistant.
All of their covers come with a full elastic hem around the whole cover for a snug fit, tie-down grommets on the underside, a storage pouch, and an antenna patch. Every cover from Empire Covers is guaranteed under warranty for 3 years to remain strong and durable. The warranty covers the full elastic hem, grommets, stitching, and cover material. They make covers for practically every RV size and type, as well as covers for cars, trucks, boats, snow mobiles, motorcycles and ATVs, and even patio and tonneau covers.
All in all, it is a good cover and comparable to other brands costing more. If you want to protect your RV and don't have a shed you can park under, then a good quality cover from Empire Covers is your best bet. As of the date of this review, we have had the cover for just over a month. If anything changes as more time passes, we will update the review.
The Empire RV Cover offers the following features:
Full Height Zippered Panels Allow Complete Access
Unique Adjustable design for a tight and secure fit
Air vents to prevent billowing
Unique rope tie-down aid
Free storage bag and rear ladder cap
Elasticized bottom corners for fast and easy fitting
Triple layer SFS top for breathable weather resistance
To shop for RV covers, click here.
Overall, we give the Empire RV Cover a 4 out of 5!
New comments have been disabled due to spammers.