Review - Lynx Levelers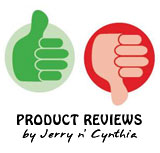 Weight and space is an issue with us and it most likely is with a lot of campers. Carrying around an assortment of pressure treated boards for leveling just wasn't an option for us. We looked at our options and decided to try the Lynx Levelers.
Lynx Levelers are bright orange (so you won't accidentally leave one behind) and stackable. You simply stack these specially designed plastic interlocking blocks into a pyramid and drive on them to level your RV! Sounds easy enough so we gave it a shot. At the campground we found our site was low on one side so we unzipped our 10 pack of Lynx Levelers and took 2 out. We placed them under our trailer tires then backed on to them. Still not level so we pulled off of those 2 then made a little pyramid, 2 on the bottom and 1 on top behind each tire. We then backed up until the tires were atop the pyramids. Bingo! We were now level!
That really was easy! We thought they might sink into the ground with the weight of the camper on them but they didn't sink much at all. If the ground is very soft, you may need to make a higher stack or put something flat under them, like the Lynx Cap. Our suggestion is to try not to camp in mud - LOL.
We also have the Stop N' Chock product that fits together with the Lynx Levelers. They are sold separately but the are great at what they do, keep you from rolling away.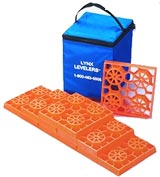 We've had our 10 pack and 4 pack of Lynx Levelers for years now and the only issue we have found is that they will fade in direct sunlight. Other than that, they are holding up like a champ. We full-time in our RV so they see A LOT of use. We really like them and think they are a great product. You can buy them from Amazon.com using the links shown below.
The Lynx Levelers offer the following features:
Use under single tires, tandem axles, dual wheels...
Use under hydraulic or hand jacks, tongue jacks...
Ten pack comes in a durable nylon storage bag.
Block dimensions: 8.5" x 8.5" x 1"
Manufacturer's three year warranty.
Holds up to 40,000 lbs!
Visit the official Lynx Levelers web site for more information.
Overall, we give the Lynx Levelers a 5 out of 5!

Shop for
Lynx Levelers 10 Pack
at Amazon.com!
Shop for
Lynx Stop N' Chock
at Amazon.com!
New comments have been disabled due to spammers.