Product Review - Barker Electric Tongue Jack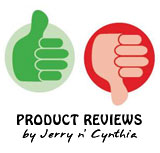 Our camper came with the standard manual crank to lift and lower the tongue. While this is not an overly strenuous job, cranking that thing in the hot sun, pouring rain or freezing cold is no fun at all. We quickly realized we needed an electric tongue jack (ETJ).
We did some checking to see what our options were and found that Barker, Atwood and Ultra-Fab were the most common. A quick eBay search will return numerous ads for refurbished Ultra-Fab jacks. This made us wonder why there were so many refurbished units out there... so we quickly dismissed the Ultra-Fab brand. Next we looked at Atwood and liked them overall, and they seem to be a very good unit. The only thing we didn't like about them was purely cosmetic; the head on it just looked funny to us.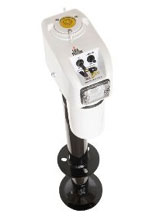 We read on several RV forums that Barker was a quality brand and had great customer service. We looked at the various models from Barker and decided to get the VIP 3500. Our hand crank jack was rated at 1000 pounds and a small ETJ would likely have been sufficient, but we went the 3500 pound lift just to make sure we'd never have a problem... even if we moved it to a larger camper one day.

We ordered the ETJ from
Amazon.com
and it arrived a few days later. Installation took about 15 minutes and was very simple. We propped up the trailer tongue on jack stands, removed the 3 bolts holding the old jack in place, swapped the Barker in, replaced the 3 bolts, attached the power wire to the batteries and we were in business.
It effortlessly lifted the camper by itself as well as the truck AND camper when we install our weight distribution bars. The switches are very easy to use even if wearing gloves, the light is very handy when hitching up at night and the little level on top makes setup even easier. You do need to level your camper the old way then adjust the 3 screws on the jack level so it will be accurate, but this need only be done once.
After the installation, I decided I wanted a cover for the jack head so it would be better protected. I looked up the number to Barker customer service and gave them a call. I stated that I had just purchased the VIP 3500 and wondered if they could tell me where I might purchase a fitted cover for it. The lady on the phone stated... without hesitation... "How about we send you one out free of charge?"! I was shocked... customer service is still alive? I gave her my info and thanked her... 2 days later the cover arrived at my house. Perfect!
So all that being said, if you are in the market for an ETJ, get a Barker. 'nuff said.
The Barker Electric Tongue Jack offers the following features:
Strong Lifting Capacity
Night Light
Easy Access Manual Override
18" Stroke
Unbeatable Customer Service
1 Year Warranty
Visit the official Barker web site for more information.
Overall, we give the Barker Electric Tongue Jack a 5 out of 5!

Shop for
Barker Electric Tongue Jacks
at Amazon.com!
New comments have been disabled due to spammers.