22 States and 15 National Parks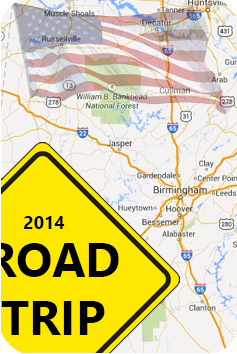 Here's what we did...
States visited count in parenthesis.
Departed Centreville, AL and headed north on I-65. (1)
Drove on through Tennessee, we'll stop here on another trip (2)
Visited Hillbilly Gardens in Calvert City, KY (3)
Visited Metropolis, IL and took a picture with Superman! (4)
Overnight stop in Marion, IL
Visited St. Louis, MO and the famous Gateway Arch (5)
Overnight stop in Manhattan! Kansas, that is. (6)
On to Cawker City, KS and the world's largest ball of twine.
Up to Lebanon, KS and the geographical center of the US!
Headed northeast to Omaha, NE (7)
Further north to Sioux City, IA (8)
Still headed north up to Sioux Falls, SD (9)
Dashed into Minnesota to unlock achievement! (10)
Headed to Rapid City, SD Took the scenic route through Badlands National Park along the way. Also visited Wall Drug!
While in Rapid City we saw Mt. Rushmore, Devil's Tower, Custer State Park, Crazy Horse Memorial, Wind Cave National Park, Dinosaur Park, City of Presidents, Bear Country USA and Bedrock City.
Drove over to Cody, WY (11)
Drove to West Yellowstone, MT (12)
While in Yellowstone, we saw Old Faithful, Mammoth Hot Springs, Fort Yellowstone, Yellowstone Lake, Grand Village Center, Norris Geyser Basin, Grand Canyon of Yellowstone, Tower Falls and West Thumb Station.
Drove south through the Teton Mtns. National Park.
Swerved over into Idaho. (13)
Drove to Moab, UT and Arches National Park. (14)
Also visited Canyonlands National Park and Capitol Reef National Park.
Next stop was Bruce Canyon National Park and Zion National Park.
Then Southwest to Las Vegas, NV (15)
While here, we saw the strip as well as the Pawn Stars and Rick's Restoration locations.
Finally headed east, we saw Hoover Dam.
Continued east to Grand Canyon National Park, AZ (16)
Headed down to Winslow, AZ and Holbrook, AZ. We spent the night here then visited the Petrified Forest National Park.
Headed northeast to the Four Corners of UT, CO, AZ and NM. (17, 18)
Drove up to Mesa Verde National Park, CO
Continued on to Cline's Corner then south to Roswell, NM
Dropped down to visit Carlsbad Caverns National Park and Guadalupe Mountains National Park.
Headed east through TX and OK (19, 20)
Arrived at Hot Springs National Park, AR. (21)
Headed east through Mississippi. (22)
Arrived back in Centreville, Alabama. Rested and recovered from all that adventure!!
We're back home from the road trip... and vacationing sure is tiring! We took 2,196 pictures and almost 100 videos. We won't publish all the videos as many of them are combined in with others... and some are just plain terrible to anyone but us. Here is the first video we have completed editing and we've put all the pictures in the
Picture Gallery
. This video is the highlights of the trip and we are acting like we aren't very interested in all the things we were seeing. But of course, we were very excited to have the chance in our lifetime to see so much of the United States.
22 states in 16 days! It's like you were right there with us. We spent months planning for our grand adventure for 2014. We spent 16 days visiting 22 states and 15 national parks and we made a valiant effort to see as many interesting sites as we could along the way. Click the map below to see the route we took and some of the things we saw along the way. The map is about 95% accurate as we couldn't resist taking a few detours to see some really cool stuff.
It was awesome!
22 states we visited
: Alabama, Tennessee, Kentucky, Illinois, Missouri, Kansas, Iowa, Nebraska, South Dakota, Minnesota, Wyoming, Montana, Idaho, Utah, Nevada, Arizona, Colorado, New Mexico, Texas, Oklahoma, Arkansas and Mississippi.
We visited
15
national parks during our trip! We have already been to the Great Smoky Mountains National Park and Shenandoah National Park so this will greatly increase our park total.
The parks we visited were (in order):
Badlands National Park
Wind Cave National Park
Yellowstone National Park
Grand Teton National Park
Arches National Park
Canyonlands National Park
Capitol Reef National Park
Bryce Canyon National Park
Zion National Park
Grand Canyon National Park
Petrified Forest National Park
Mesa Verde National Park
Carlsbad Caverns National Park
Guadalupe Mountains National Park
Hot Springs National Park
This trip covered approximately 6,700 miles, required 130 hours of total driving time and burned 172 gallons of fuel at a cost of $645.00 ($3.75 per gallon average). That pegged us at 39 MPG, which our car consistently got over the course of the trip.
We considered a jaunt up into Washington and Oregon to pick up those states but it would simply put us in too much of a hurry... and we hate being on a schedule! It is bad enough that we had to be on a schedule up to Yellowstone due to the fact you must make lodging reservations almost a year in advance!
New comments have been disabled due to spammers.