Review - Bag Rack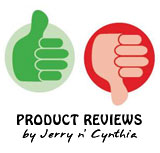 It is not very often that a quality made AND useful product hits the market. Most often you find a nifty item that is a poorly made piece of Chinese junk, or you find an item that doesn't work as advertised and is also a piece of Chinese junk... but not this time. Our friends at Bag Rack sent us one of their products to try out and we've been using it for over a month now... and we love it!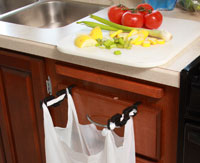 The Bag Rack is a handy little gizmo that holds plastic grocery bags for you so you can use them for trash bags. We always have the plastic grocery bags around and have always used them for trash, but until recently we just sat them on the floor. The Bag Rack comes with suction cups so you can attach it to any smooth, non-porous surface and it will also hang on a kitchen drawer. It is great for outside the RV as ours has fiberglass sides and suction cups work great there. I'm sure it would work just as well for aluminum sided RVs. Inside we hang it on a kitchen drawer.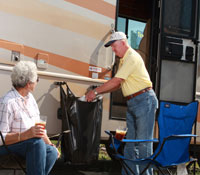 It holds the bags open so you can toss your trash in using just one hand. And when the bag is full, it is so easy to remove the bag from the Bag Rack. When we are outside enjoying a meal or snack, the Bag Rack keeps a trash bag handy and off the ground so ants won't get into it. It also keeps it from blowing away!
We love it when a great product comes along that is useful for RVers and doesn't have the price jacked up just because it is used by RVers. The Bag Rack is only $9.95 plus a small shipping and handling charge. If you're like us and use plastic grocery bags for your trash, get one of these and stop fighting with the bags. And since these are so inexpensive, you can buy some as gifts for your other RV friends.
The Bag Rack offers the following features: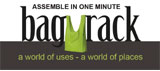 Made in the USA
Sticks to any non-porous surface
Hangs on almost any drawer
Requires no tools to assemble
Great for indoor and outdoor use
Overall, we give the Bag Rack a 5 out of 5!

UPDATE: It appears this company has gone out of business.
New comments have been disabled due to spammers.