The Blue Ridge Parkway and Skyline Drive
We wanted to do a run up the Blue Ridge Parkway (BRP) and Skyline Drive in 2009 but didn't get around to it. Instead, we opted to take a ride along the
Gulf Islands National Seashore
. So here it is in June of 2010 and we are here to conquer the BRP on two Honda Ruckus scooters. Our first base camp was Smokemont Campground near Cherokee, North Carolina.
The BRP starts off at 2,020 feet at the southern end and is 5,718 feet at Waterrock Knob, 17 miles up the road and our turnaround point for the day. Average speed up the mountains was 22 MPH and down was as fast as we wanted to go.
Traffic was light the day we made the ride but we still stopped at every overlook to snap a picture and to let cars go by. We made it through all of the tunnels although one of them was long, dark and the pavement was very rough. The others were smooth and short enough that you could see the light at the other end. This made Cynthia feel much better about riding through them.
It was nice and sunny down the mountain but the weather up higher was a different story. We had to stop and put on our rain suits at about 4800 feet. It rained steadily but we continued on up the mountain as we wanted to make it to the information center at Waterrock Knob. We made a detour through Maggie Valley just to see what was there. It was just your typical touristy destination and nothing there impressed us. The 2 mile long 9% grade was fun going down but a chore to get back up. We made it just fine, though. The following pictures are (from left to right) Maggie Valley, Thunderstruck Ridge Overlook and Waterrock Knob.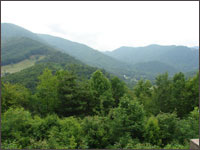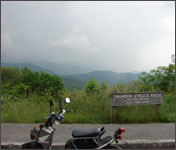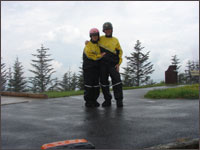 The adventure continued on towards Asheville, North Carolina where we toured the downtown area. We loved the new park and seeing the monuments and historic buildings. We love when towns maintain those areas as it is usually a good tourist draw. Below are a few pictures of Asheville, you can see more
here
.

Our next camping spot was Julian Price Campground near Blowing Rock, NC. We loved this campground! There are no hookups but they do have a water supply and a dump station so it was OK for us. We stayed here for 12 nights. The deer would walk through the campground almost every day!

The town of Blowing Rock was really neat and we were glad to have the scooters to tour it with. You can see so much more when you are doing 15 MPH on a scooter than when doing 30 MPH in a truck. Plus you can park much easier should you suddenly get the urge. Our favorite attraction for this whole area was the Mast General Store. Oh my goodness, you have to go there if you are ever in the Valle Crucis area. The store was established in 1883 and it was so much fun to shop there. They have old timey stuff as well as modern things and they don't charge tourist prices... everything was very reasonable. Jerry bought a hat and Cynthia bought a 6" iron skillet. More pictures of this area can be seen
here
.

The final stop in North Carolina was Mayberry, also known as Mt. Airy. This little town was awesome! We stayed at the Mayberry Campground and took the scooters into town where we saw Wally's Service Station, Andy's boyhood home, Floyd's Barber Shop, the jail cell where Otis spent so much time and we even had a famous pork chop sandwich at The Snappy Lunch diner! Jerry got a haircut at Floyd's and it was only $8.00! Some things are still a bargain. Oh, this is also home to the World's Largest Open Face Granite Quarry and it is free to go see that. Lots and lots more pictures of Mayberry can be seen
here
.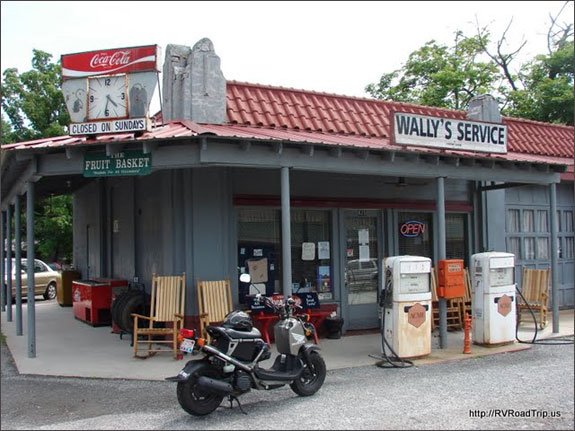 Our next stop was the Horne Creek Farm near Mayberry. They are rebuilding this farm using techniques from the late 1800s and it is very cool to see. Orchards, turkeys pens, old farm house, tobacco drying barn and more. They had sheep, goats, cows and even several barn cats. You can take a self-guided tour or you can wait for them to take you on a limo style golf cart. We rode the golf cart since no one else was there when we arrived late one afternoon. You can see more pictures of Horne Creek Farm
here
.

We finally hit the northern end of the Blue Ridge Parkway and now it is on to Skyline Drive. We are officially "end-to-enders" and can pat ourselves on the back. 469 miles of scootering goodness - woohoo! We took a ton of pictures during our 2 week stay here and you can view them all below. We really enjoyed our grand scootering adventure this summer and we got to see some of the most beautiful scenery this country has to offer. If you ever get the chance, be sure to take your car, truck, motorcycle, RV or just a walking stick and visit the Blue Ridge Parkway and Skyline Drive. You will be so glad you did! So now you ask "What will be your scooter adventure for 2011?". We're not sure yet but I think it just might involve the Rio Grande Valley! May God bless you!
We visited here in 06/2010.
New comments have been disabled due to spammers.