The Florida Keys
On this road trip, we visited the Southern tip of Florida... Key West. We also visited 3 national parks: Dry Tortugas, Biscayne and The Everglades. To be honest though, we didn't actually go out to the Dry Tortugas Fort as it would have taken too much time and it was ridiculously expensive. We didn't feel it would be worth the $170
per person
to take the ferry out there.
We left Alabama and headed towards Donalsville, Georgia. We stopped in Georgia so we could collect the $6 we had won on our old Mega Millions ticket and to buy a new Mega Millions ticket. We get one ticket with one set of "quick pick" numbers good for 26 consecutive drawings. We know the odds of winning are against us, but the way we see it, every previous winner had a ticket... therefore you have ZERO chance of winning without one.
We continued on down to Perry, Florida where we spent the night. We stayed at the Royal Inn, a old motel from back in the day, but it was very clean and only $50 for the night. We only want a place to sleep and do not care about amenities other than A/C and cleanliness. We awoke early the next morning and hit the road again. We drove through Crystal River where we took pictures with the big roadside gorilla. Next was a drive down US 19 past Weeki Wachee then on through New Port Richey, Tarpon Springs and Clearwater. We wanted to see how this area had changed over the years... it is just a busy mess nowadays.
Next on the list was a drive over the Sunshine Skyway Bridge in St. Pete. We took a lot of pictures as we went over it. We stayed on the Interstate from St. Pete down to Naples, only stopping to drop off 3 defective glasses at the Tervis Tumbler factory in North Venice. We were very disappointed that they don't just swap them out anymore. So if you folks at Tervis Tumbler read this, you lost a customer.
We spent the night in Naples so we could be rested and take a leisurely drive down the Tamiami Trail the following day. We stayed at the Red Roof Inn and it was $79 for the night. Surprisingly, this was a great motel, newly remodeled, an awesome pool and great location. At daylight, we headed off down the Tamiami Trail. We stopped by the tiny post office and the Skunk Ape Research Center. We continued on to Shark Valley where we bought a $12 commemorative coin but we did not take a tram tour. We were more interested in getting to Buffalo Tiger's Airboat Tours! We took the 45 minute airboat ride through the grasslands and got to see lots of wildlife including several alligators.
After the airboat tour, we headed on into Florida City where we spent the night at the Quality Inn. Once again, this turned out to be a fantastic motel and a great value. Spotless rooms, nice pool and only $65 for the night. Anything under $100 for a motel and we are excited! After enjoying an awesome continental breakfast at the motel, we headed down the overseas highway and the Florida Keys. Woohoo, we made it!
We drove the speed limit which is 45 MPH most places, a 55 MPH zone once or twice and even a 35 MPH zone thrown in there. This is why it takes so long to get from Florida City to Key West. We stopped at all the spots we wanted like Robbie's, The African Queen, Flipper's grave and the hurricane monument. We even saw some Key Deer along the way, 4 live ones beside the road and 1 dead one in the road.
We finally arrived in Key West and went to our hotel, the Lighthouse Court Hotel. What a disappointment for $212 a night. The place is old, rotting wood all over the place that they tried to hide with 34 coats of paint and a window unit A/C in the room that could not keep the room cool during the day. I asked for a picture of Nicolas Cage to be put in the room and they didn't even do that! We stayed one night here then moved over to the Parrot Key Resort. Parrot Key was $225 a night but this place was impeccable... and they provided a picture of Nicolas Cage as requested!
While in Key West, we visited all the major attractions like the Southernmost Point (we did not take our picture with it because the line was always a block long), the lighthouse, Mallory Square, Fort Zachary Taylor, Smathers Beach, Duval Street, etc. We took pictures everywhere we went and you can see them below so we won't mention every little thing we saw. Overall, we enjoyed our trip to Key West but it is more suited to the folks who are gay and like to drink. We are none of that. We were anxious to leave after 2 days there, so we headed out bright and early on our way to Georgia to visit Jerry's Dad and his wife. We spent 2 nights with them then headed back to good ol' Alabama.
The trip covered approximately 1,900 miles from start to finish. That was about 49 gallons of fuel and 5 nights in motels and the rest with family. Once again, motels were our biggest expense. Fuel was about $134 for the whole trip (gotta love a car that gets 39 MPG!).
Here's the route we took. It is short compared to what we have planned for next year! Below that are the 500 pictures we took while on the trip. We hope you enjoy them.
We visited here in 06/2015.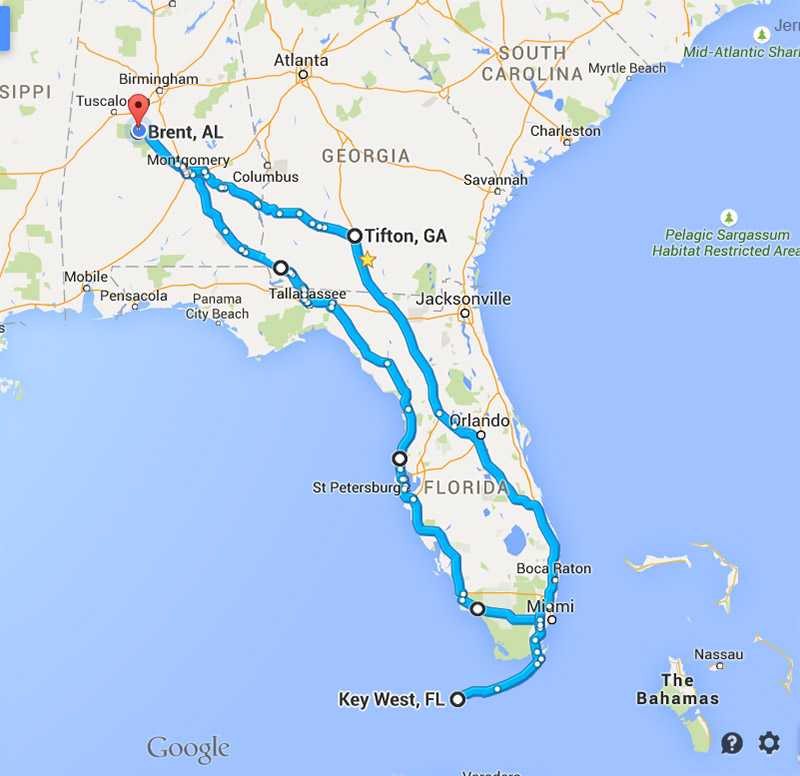 New comments have been disabled due to spammers.