Review - Barker Portable Holding Tank (Blue Boy)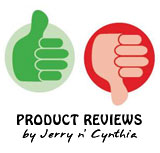 Honey wagon, blue boy, poop tote... whatever you call it, a portable holding tank (PHT) is often a necessity. It is used for hauling waste water (gray and black) from your camper to a dump station. Many campgrounds don't have sewer hookups and if you fill up your permanent holding tanks on your camper before you are ready to leave, you need a way to dump those tanks.
You could hitch your camper up and haul the whole thing over to the dump station but that is a little impractical. A portable holding tank is a much better solution. They range in sizes from about 5 gallons up to 42 gallons to suit anyone's needs. Some have 2 wheels, others have 4 wheels. They generally have a handle that attaches to the ball on your tow vehicle so you can haul the full tank to the dump station. Some folks prefer the small ones so they can lift them into a vehicle; others prefer large ones so they can empty the tank in just one trip. We chose to go with the biggest one we could find, the Barker 42 gallon PHT.

We did not like the design of the other brands. The way they empty is awkward and requires you to do more work. They also didn't seem to be a quality product, but that's just our opinion. The Barker 42 gallon unit has a great design and very good quality construction. The only drawback is that they use plastic wheels. These are noisy and can break when towing the full tank across rocks, potholes or uneven pavement. We immediately replaced the plastic wheels on ours with pneumatic tires and it is a tremendous improvement. The biggest benefit is when it comes to the point of me having to drag the full tank from the camper over to the truck. The bigger tires make that job much easier.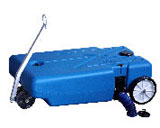 Another reason we chose Barker is their customer service. It is second to none. If you ever have a problem with a Barker product, just give them a call and they will take care of it. No arguing, no 50 questions, no trying to blame you... they take care of their customers!
If you want to replace your plastic wheels with pneumatic tires like we did, use
these 10" tires
from Amazon or Harbor Freight for the rear, and use 6" pneumatic tires from
Access Casters
(part #6PPN62, call them to order). If you use axle nuts, you can keep your original axles. If you want to use cotter pins, make new axles 1/2"-3/4" longer than the originals. You can get new axle rods at Lowe's or Home Depot and they will cut them to length for you. Coat the new axles in grease to prevent rust. Now the tote will pull much easier and much quieter.
If you are in the market for a PHT, get a Barker. No matter what size unit you get, you will be pleased with the quality and the customer service you get from Barker. We're very pleased with ours and we would have given it 5 stars if it wasn't for the plastic wheels. One last thing, get the 4 wheel model instead of the 2 wheelers. You'll thank us for that advice one day.
The Barker Portable Holding Tank (Blue Boy) offers the following features:
Blow-molded Polyethylene Construction
Zinc Plated Steel Brackets
4-Wheelers are equipped with standard 3" valves
Double wheel, front-swivel design
Parts and Accessories Available
Completely Assembled
Visit the official Barker web site for more information.
Overall, we give the Barker Portable Holding Tank (Blue Boy) a 4 out of 5!
Shop for a Barker Portable Holding Tank (Blue Boy) at Amazon.com!
Barker 16 Gal. 4-Wheeler Tote-Along
Barker 25 Gal. 4-Wheeler Tote-Along
Barker 32 Gal. 4-Wheeler Tote-Along
Barker 42 Gal. 4-Wheeler Tote-Along
New comments have been disabled due to spammers.