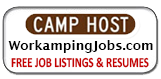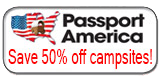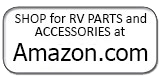 Ram ProMaster RV Camper Van Conversion - Floor Plan
If you are looking for the index page of the campervan project, click here.

The Layout
Everything has a place and everything must be in its place when not in use.

Our goal was to have a fully functional campervan that we can travel around the country in on our annual road trips as well as random vacations. It must provide us with a comfortable place to sleep, cool when it is hot outside and warm when it is cold outside, and have some of the comforts of a regular RV (more or less). We will have between 200 and 400 watts of solar on the roof and 2 to 4 deep cycle batteries to store the power. This will allow us to always have electricity even when we are not in a campground or RV park. No, this amount of solar is not sufficient to run the A/C or microwave efficiently. We will not have a bathroom like most RVs would have, but we will have a portable toilet for emergencies or when it is not reasonable to go out to the campground bath house (bad weather, late at night, etc). The van is wired for 120v and 12v, with the 120v being supplied via a link to shore power. We may decide to add a generator if the need arises but that seems unlikely.

This is the final draft and is what we actually built, with a few changes here and there. Click the image to enlarge it.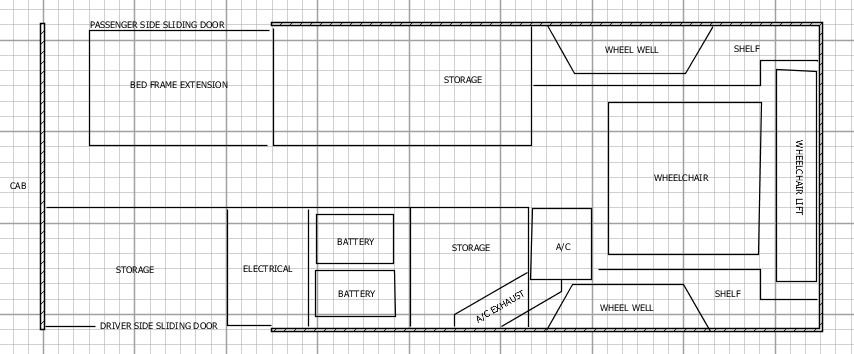 Note: This image is not to scale.


Jerry's bed is 80" long since he is 6' tall. The center section of his platform hinges up for access to underneath. Under his bed is the electrical stuff where the converter, solar charger, inverter and power distribution box are located. A set of deep cycle batteries are next to that but in a compartment vented to the outside. A portable 14,000 BTU air conditioner is mounted between the bed and the wheelchair lift along the wall. Exhaust is vented to the outside through a 12" x 12" vent cut into the side of the van. An insulated housing directs all the hot air outside while 2 other vents in the van floor allow cooler, fresh air to come in to rear of the A/C unit for improved efficiency. The A/C blows cold air out the top of the unit directly into the van. The remaining space under the bed is storage.

Cynthia bed is extendable. When not sleeping, about half of it will slide into the other half so we have full use of the passenger sliding door. Her mattress will stand on its side along the wall when her bed is folded in. Above each bed is a cabinet, one side houses the microwave. This is where we keep our clothes and other small items. We don't take a whole lot of stuff with us when we go camping, just enough to last a week plus laundry day. Most of our trips are 3 and 4 day weekend trips, but during the summer we always take a 2-3 week road trip.

In addition to the solar panels on the roof, we have installed a MaxxFan Model 7000K fan. This unit has the white cover, it is remote controlled and the lid will open and close automatically. Lighting inside the van is all LED with a light appearance of 5000K (white, not yellowish light). There are various 120v, 12v and USB outlets in the camper to make charging things easy. For privacy, the windows can be covered with precut pieces of Reflectix. These are attached using velcro. At least two 12v cameras will be mounted outside with a small screen on the inside. This is so we can look outside without having to peek out the windows. Handy when you are stopping for the night in a Walmart parking lot or boondocking in the middle of nowhere and you hear a bear, or Bigfoot.