Jerry n' Cynthia in the News
HERE IS THE TEXT OF THE ARTICLE THAT APPEARED IN THE BIRMINGHAM NEWS. IT WAS ALSO RELEASED NATIONWIDE BY THE ASSOCIATED PRESS NEWS AGENCY.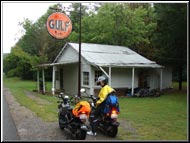 Go ahead. Zoom past Jerry and Cynthia as they explore the state on their small gray scooters. But if you do, you might not notice some of the charming landmarks they come across, such as the 1920 Tater House in Chambers County or the Old Coosa County Jail Museum.

"When you're going 37 miles per hour, you don't miss a thing," Jerry says. "I didn't know so many people in Alabama have goats," she says.

In April, the Jemison couple began their quest to visit all 67 Alabama counties. Their inspiration? A sense of adventure and the "Most Alabama Counties '08" challenge sponsored by a local motorcycle web site. (Participants must take a photo of a verifiable location in each of the counties they visit, and a portion of their bike must be visible in each shot.) The Winegards just thought the contest sounded like fun, they say. Whether they win prizes, such as leather chaps or T-shirts, is beside the point. "Our goal is not to get stuff, it's to see things," Cynthia says.

As spontaneous as they seem, though, they are planners, as evidenced by a trio of maps recently spread on their kitchen table. "We get out Yahoo maps and plot it out step-by-step," Jerry says. "We research what we might want to take a picture of." Sometimes, that's easier said than done. "Some counties don't have much," Cynthia says.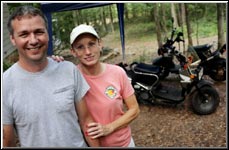 So far, the Winegards, who are the only participants riding scooters, have visited all 67 counties, which is more than the other contestants have documented, says Don Redman of Hoover, who co-founded the Bama Rides Web site and originated the contest. Which just confirms that there's no need for speed to be in the lead, the couple says. In fact, they've downsized their rides. They shared a highway-cruisin' 250cc 2001 Honda Reflex while visiting the first 23 counties. Now, they each ride a 50cc Honda Ruckus (top speed, 45 mph).

Redman, whose reaction to the Winegards state tour on the Reflex scooter was "Good for you," says that he, along with some other folks in the Bama Ride community, was concerned with the switch to the lower-power scooters. "We were all kind of shocked," Redman says.

Initially, the couple feared the wrath of in-a-hurry drivers as well, but those fears haven't borne out. "We thought people would be aggravated," Cynthia says. "But 99.5 percent of the people have been nice."

They realize, too, they say, that scooters are the coolest rides on the road, but a speedy hog of a motorcycle isn't for them. For one thing, Cynthia is a fledgling biker, and scooters are relatively nonthreatening. The "twist and go" automatic transmission of a scooter is easier for Jerry to drive as well. In 1990, he was critically injured during a robbery at the Plant City, Fla., restaurant he managed. "I took two bullets to the chest," he says. One of those bullets crushed his spinal cord. He was in the hospital for 18 days, and "flat-lined" during surgery, he says. "I was dead for almost seven minutes." His neurosurgeon told him he would never walk again, he says, but his "Aunt Betty" told him something else.

"She said, `Don't listen to what the doctor said,' then she asked if she could pray over me," Jerry says. "She said, `Dear God,' and that's the last thing I remember for the rest of that day. Two days later, they discharged me and I walked out the front door." He still limps, and is unable to run, he says. He has poor balance, constantly feels a "scalding" sensation in one leg, and has limited use of the other. All of which make a foot-shift motorcycle difficult to drive and employment difficult, he says. He's disabled, and he and Cynthia, a housekeeper for a north Shelby County family, raise pygmy goats. (Thus, her interest in their abundance during their travels.)

All of their treks, with one exception - the weekend of July 4, when they drove 538 miles and visited 14 counties - have been day trips. Motel expenses were partially offset by their gas savings, they say, from riding scooters that average 100 miles per gallon. "Over three days, we spent $42 for both scooters," Jerry says.

In a couple of years, when his son graduates from high school, they plan to hit the road big-time on their small-time scooters. "We're going to see the Grand Canyon, Yellowstone, Mount Rushmore ... ," Jerry says, along with less stately sites, such as a certain record-breaking sphere in Darwin, Minn. "I'm one of these goofy people that wants to see the world's largest ball of twine," Jerry says. "This contest is just a warm-up."

This has been slightly edited to be more accurate and to show that we have completed all 67 counties. At the time this article was published in The Birmingham News [July 27, 2008], we had only visited 37 counties.
New comments have been disabled due to spammers.